Foxit® Acquires Data Capture Leader Dataintro Software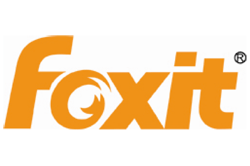 Fremont, CA - August 05, 2014
Foxit® Corporation, a leading software provider of fast, affordable, and secure PDF solutions, today announced it has acquired Dataintro Software. Dataintro Software, a privately owned software company headquartered in Madrid, Spain, provides Ultraforms®, a patented 2D barcode generation technology for PDF forms to enable fast and accurate data capture from paper documents.
Dataintro serves large companies and government agencies who need to capture data from hardcopy. To solve data capture issues, Dataintro's customers provide Ultraforms enabled PDF fillable forms to their end users. When these end users fill in the PDF form electronically, Ultraforms generates a 2D barcode right onto the form that contains the variable data entered into the form by the end user. After printing and signing, submitted forms can be quickly scanned and the form's data can be easily and accurately captured into databases or applications. Data capture using 2D barcode technology guarantees 100% accuracy and provides cost savings, higher productivity, better efficiency, and improved customer satisfaction.
"Since Ultraforms uses PDF technology, it works on any platform and just requires a free and easily accessible PDF reader to fill in the form and to generate the barcode - no further installation of software, plug-ins, or libraries are required," says Eugene Xiong, Founder and Chairman of the Board at Foxit. "Foxit is excited to offer Dataintro data capture products as part of our fast, affordable, and secure PDF solutions."
Dataintro also offers PDS®, a powerful client-server application that serves to manually capture data from paper forms of all kinds. Whether you process tax returns, loan applications, clinical information, simple forms, or complex sets, it provides an easy-to-use, scalable platform that equips your organization with a powerful tool to capture data from almost any source in a secure and reliable environment. You can then track, audit, and search the process behind the form giving you maximum efficiency and ensuring compliance to organization and government regulation.
"Dataintro is thrilled to be part of the Foxit Software family," says Carlos Gonzalez, founder of Dataintro Software. "The synergy resulting from working with the PDF experts at Foxit will enable us to improve our offerings to our customers and the value they get from our data capture products."
For more information, contact Foxit at http://www.foxitsoftware.com or at 1-866-MYFOXIT.
About Foxit Corporation
Foxit is a leading software provider of fast, affordable, and secure PDF solutions. Businesses and consumers increase productivity by using Foxit's cost effective solutions to securely work with PDF documents and forms. Software developers reduce costs and improve time to market with Foxit's Software Development Kits (SDKs) to incorporate robust PDF technology into their application workflows. This technology shares the same underlying technology that powers Google's open-source PDFium project. Winner of numerous awards, Foxit boasts over 275 million users and has sold to over 100,000 customers located in over 200 countries. Since Foxit products are ISO 32000-1/PDF 1.7 standard compliant, they are compatible with other PDF products like those from Adobe®.
###
Foxit is a registered trademark of Foxit Corporation. Other trademarked names or terms used in this document are the properties of their respective owners.