Dataintro Software will be present at AIIM 2010 (BOOTH 1933)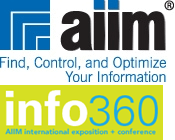 Sacramento, California - February 22, 2010
Dataintro Software, the leading provider of 2D barcode generation technologies for PDF forms, will be present at the AIIM 2010 International Exposition & Conference, the definitive industry gathering for information management professionals across industries and lines of business, will be held Tuesday, April 20, through Thursday, April 22, 2010, at the Pennsylvania Convention Center in Philadelphia, PA.
Attend the AIIM International Exposition & Conference to learn how to create real business value from your information assets. Join thousands of IT professionals, records managers, and system integrators, for expert insight and advice from the world's leading information management practitioners and suppliers. Technologies and strategies covered include: data capture and storage, records management and compliance, content and document management, search and information access, content integration and business process management. There is no better place to compare, contrast and evaluate the products/services you may already be researching online and meet face-to-face with the top information management suppliers.
About Dataintro Software
DATAINTRO SOFTWARE is a privately owned software company with offices in Sacramento, California. We are the leading provider of 2D barcode generation technologies for PDF Forms, and are a highly specialized company in the Paper Process Automation area. Our clients are large private companies and government agencies worldwide. The solutions we provide translate into cost savings, higher productivity and better efficiency. All of the above also translates into customer and/or citizen service quality improvement.